Thank you Houston volunteers

, participants
and Chevrolet for helping to make the
911 Heroes Run an incredible success!

Houston raised more money for the
Travis Manion Foundation than any other city!





Never Forget ~ 9/11 Heroes Run


911heroesrun.com

 

Travis Manion Foundation





In Honor of Those Who Serve & Those Who Have Fallen



Scroll Down to View Photos of the Event

September 11, 2011 was the first annual Heroes Run. The race began at 9:03 AM, the time the South Tower was attacked. 10 years ago.
Mayor Annise Parker, Police Chief Charles McClelland, Houston Fire Chief Terry Garrison, numerous Navy, Marine, Army, Coast Guard personnel, General Wells and Col. Tom Manion were in attendance at Ellington Field.
I am proud to say that the Travis Manion Foundation 5K run was being run all over the world.  In the USA, San Diego was ahead of Houston but in the end, Houston came out on top with the most donations and the most runners.  We are proud of all participants but we are also proud of Lone Star Chevrolet and Ron Craft Chevrolet for sponsoring the Houston 5K run.  Chevrolet as a company was the sponsor of this Heroes Run nationally.  I just had a visit from Captain Greg Fremin of HPD and he just informed me that they anticipated about 400 people in attendance and in the end over 4000 people were there!  That's why we love Texas and love Houston in particular.
The Travis Manion Foundation was created by the family of 1st LT. Travis Manion to honor his memory and giving in his short life. Travis was killed by a sniper in Fallujah several years ago.  When Travis' mother asked why he was going back to Iraq for the second time, Travis replied "If not me, then who?" Travis joined the Marines immediately following the 9-11 attacks.
Inspired by Travis's words, over 4000 people in Houston were present to honor our fallen heroes.
Thank you Houston!

---






The Travis Manion Story


As the nation nears the 10th anniversary of the September 11 terrorist attacks, the General Motors Foundation and Chevrolet today donated $250,000 to the Travis Manion Foundation to help grow participation around the country in the 9/11 Heroes Run.

The 9/11 Heroes Run will bring communities together in more than 25 U.S. cities to honor military, police, firefighters and first responders who have given their lives to protect and save others. Proceeds from the 5K races will go to the families of fallen heroes.

The Manion family formed the foundation in 2007 after Marine 1st Lt. Travis Manion was killed by sniper fire while defending against an enemy ambush during a patrol mission in Fallujah, Iraq. In an unusual move, the Iraqis named their operating base Combat Outpost Manion, one of few Iraqi facilities named for an American service member.

Before leaving for his last tour, Manion visited Rescue One in New York City, the First Responder unit that lost more than half its members helping others following the Sept. 11 terrorist attacks.

"After a day of sharing their experiences with Travis, he came home even more inspired to serve our country," said his mother Janet Manion. "He gave his father a Rescue One hat that read 'Never Forget' and asked that his father wear it while he was gone. That's why we started the 9/11 Heroes Run four years ago... to honor and remember."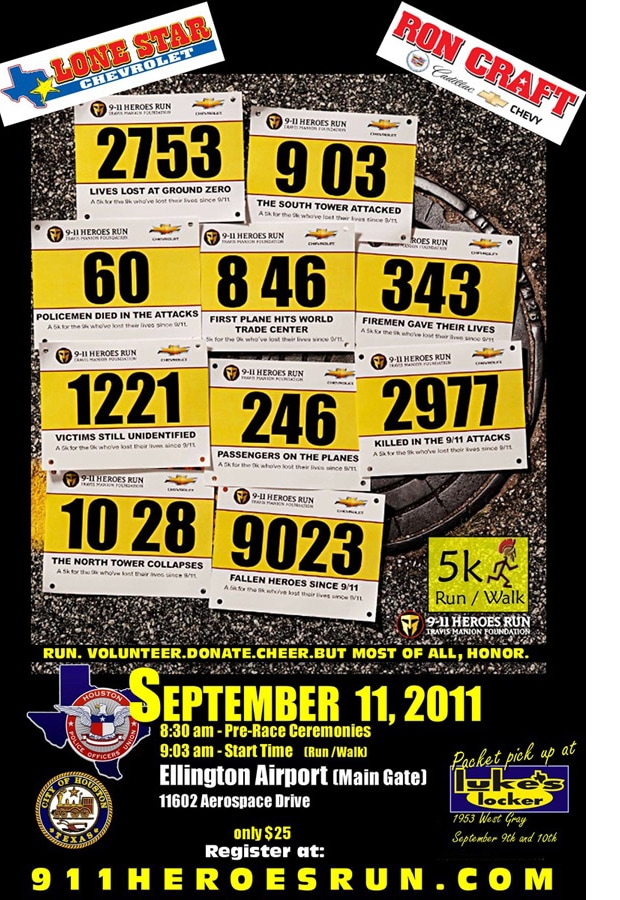 In addition to the 9/11 Heroes Run, the foundation operates the Character Does Matter Leadership Program, programs to Honor the Fallen, and funds Good Grief seminars, scholarships and community service projects that benefit U.S. veterans and families of the fallen.

"We hold our nation's military personnel and their families in the highest regard, and it's our honor to support the families of our fallen heroes," said GM Chairman and CEO Dan Akerson. "I'm personally honored to know the Manion family and to be associated with such a worthwhile endeavor in Travis' name and memory."

Manion, whose father was also a Marine, excelled in the classroom and as an athlete at the Naval Academy, winning several leadership awards and being a nationally ranked wrestler. He was also awarded the Silver Star and the Bronze Star with Valor for his actions in Iraq.  Manion Hall at the Basic School in Quantico, Va., is named after Travis and stands as a reminder to future generations of Marine officers of his leadership on and off the battlefield.

Chevrolet is the official pace vehicle of the 9/11 Heroes Run, the brand's latest support for military families. Chevrolet's longstanding commitment includes the GM Military Discount program which provided more than 70,000 discounts in 2010 to military personnel and their families with a cumulative value of more than $60 million.

Those who want to volunteer or register to participate in one of the runs - visit  www.911heroesrun.com  or Houston 911 Heroes Race.




About the Travis Manion Foundation



Not long after Travis was killed by enemy sniper fire in Iraq, checks in his memory began appearing at the Manion's home. In lieu of flowers, checks from all over the country and the world soon amounted to more than $100,000 and Tom and Janet vowed to give every penny to worthy causes.  The year following Travis' death, the newly formed Travis Manion Foundation presented $180,000 in scholarships, $85,000 to Fellowships for wounded and disabled veterans through The Mission Continues, and more than $45,000 for Good Grief seminars to help families of the fallen.

Today, the Foundation operates three major programs that Honor the Fallen by Challenging the Living through a Character Does Matter Leadership program, a program that Honors the Fallen, and the 9/11 Heroes Run each September 11th, while still funding Good Grief seminars, scholarships, and community service projects that benefit our Nation's veterans and Families of the Fallen.